Pool Lighting options and where should you put the lighting around your pool?
Where you place the lighting around your pool depends on your yard, its features, and the elements you want to see around your pool.
You may want grass, trees and flower beds, or you may want mostly concrete and tile. You might even opt for a desert landscape with rocks, pottery and a few plants.
Lights implanted in concrete steps, stairs and walkways can make your garden more functional and beautiful. Aside from aesthetics, lighting these areas is a necessary safety precaution to prevent people from tripping and falling.
Accent lights can be placed in or on trees, on walls, and around water features (like pool fountains) to highlight these areas and enhance the beauty of the outdoor space.
Let's assume you have a statue, a fire pit, or perhaps a koi pond in your backyard.
Patio and garden lighting make the areas where people spend the most time at night more visible. These areas can be lit with soft light to add warmth or with more powerful light to make the space more functional.
Types of landscape lighting for outdoor areas
Now I guess you have a little idea of where and what to light, we can move on to the types of lights you can use.
1. Floodlights
These are good for lighting large spaces, especially if you want them to be well lit. Floodlights can illuminate entire areas of your yard, such as a patio or garden.
2. Spotlights
Spotlights are used to highlight your favourite objects such as trees, walls or fountains. In addition, spotlights allow you to create different effects by directing the light up or down.
Uplighting means the light is directed upward at an area or object, such as a plant, wall, or statue. Downlighting is where the light shines down from above, such as from a tree.
3. Hardscape lights
These lights are usually recessed into concrete and stone steps, walls and pathways for safety reasons and they are often inconspicuous but still provide enough visibility for people to see where they are going. You might see them in steps leading to the pool or in seating areas around the pool.
Pro tip: Make sure your lighting doesn't violate Australia's national or regional regulations regarding distance from the water's surface. This depends on the IP rating of the light.
4. Path lighting
They usually replace landscape lighting and are available in many different styles.
Try lighting your path from the house to the pool with a combination of pathway and landscape lights. Just make sure you use the type of lights that are right for the areas near the water.
5. Torches
These torches are usually tropical in style and add character to the area around the pool.
Solar, battery-powered and electric torches are an excellent alternative to flame torches.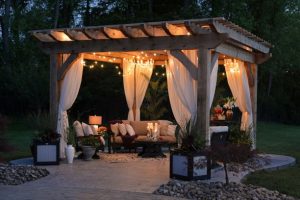 6. Fairy lights
Fairy lights and strings lights are used less for illumination and more for aesthetics, but they can add both light and personality to your space.
They're great for hanging over patios and wrapping around trees and other plants. You can be  creative with the placement of your fairy lights, but be careful not to hang them over your pool or other water features like fountains, sunbeds, and ponds!
7. Fountain lighting
Fountain lights are typically recessed into the ground and can illuminate specific areas or provide additional lighting in dark areas. Depending on your needs, they can be recessed flush into the ground or left exposed.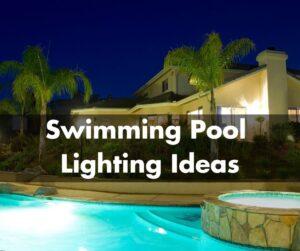 What lighting colour is best for backyard pool design?
Lighting colour and beam options
Your landscape lighting shouldn't all look the same. Landscaping experts say it's good to have some variation in colour and light distribution for each area you want to highlight.
Let's say, if you want to put a light in a tree canopy to create a moonlight effect, you'll probably use white light with a slight blue tint.
For most uplighting and pathway lighting, you will probably use warm white or yellow lights.
A skilled landscaper or electrician should be able to help you choose the right lights for each part of your landscaping project.
Automate landscape lighting 
You can get a smart lighting wiring system to control your pool and landscape lighting. These systems sometimes include a control panel or can be controlled from your smartphone.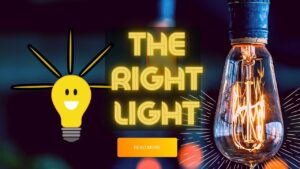 Can I use solar lights for my backyard pool?
Solar lights for the backyard are an affordable alternative to traditional garden lights that you can build yourself.
There are several advantages to using solar-powered lighting fixtures, including:
Little to no wiring
Save energy (and money)
Safer to use near water and pool
Easy to maintain
Ideas for pool lighting in your backyard
If you're looking for ideas for lighting around your swimming pool, here are a few suggestions:
1. Illuminate your water features with spotlights.
2. illuminate trees and plants with spotlights or fountain lights from above or below
3. illuminate your pathways with pathway lights and landscape lights
4. illuminate your patio and other high traffic areas with spotlights
5. illuminate a wall with one or more spotlights
6. spread tiki torches around the edge of your pool
7. illuminate steps and seating areas with hardscape lights
8. highlight pottery, statues and other unique elements
9. hang fairy lights over your terrace.
Who should I hire to install my outdoor lighting?
This article was first published here https://multivoltservices.com.au/pool-lighting-ideas/