Pool decking ideas in Brisbane 
A deck around a pool is not only attractive, but it also serves as a place to relax while swimming.
Pavers and concrete around a pool used to be far more common, but people are now opting for more modern wood options.When selecting a pool decking material, there are several factors to consider.
Some are slick, some wear out quickly, and some are simply stunning.
That's why choosing and implementing suitable material is so important!
Perhaps your choice also depends on how much the deck costs.
Here are your options:
Pool decking materials option
Timber decking
Timber decking boards are a popular choice because these wooden boards look great around a pool.
Plus, wood feels softer and smoother underfoot than hard, rough concrete.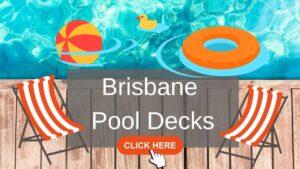 Choose timber boards wisely
The wood used for pool decking must be able to withstand all weather conditions and not get wet too often. 
Mottled eucalyptus and Merbau are common woods for pool decking. This is due to their rot-resistant properties. However, some other timbers rot extremely quickly if they often get wet.
Avoid pine decking boards
Many decks are built from pine, but it is not suitable for pool decking. Pine is softwood, and it won't last long near a pool because it will rot.
Finishing touch
Water-based and oil-based finishes are the two options for finishing wood.
Choose the best option for your needs and desired appearance.
Water-based finishes dry quickly and are easy to clean, whereas oil-based finishes have a more traditional look and last longer.
If you already have a deck, stick with the last coating type you used; switching between oil- and water-based coatings will require you to strip the existing surface down to the bare wood before repainting.
Fade to grey 
Many people let their timber decking fade to grey naturally, although all wood needs some maintenance to keep it from splitting or rotting.
If you choose a timber deck, you will need to stain the wood every year or two to keep it looking its best.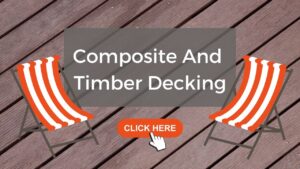 Composite decking
A newer option for pool decking is composite decking. These durable decking materials can last 20 or 30 years around your pool. 
This material is meant to mimic the look and feel of wood but is made from a combination of plastic and wood.
Composite decking boards benefits
Much less slip factor
When wet, composite decking has the advantage of being far less slippery than wood.
Splinter- and rot-resistant
There's no need to be concerned about splinters if you walk on them barefoot.
In addition, composite decking boards do not require staining and will last longer than wood.
Simple to look after
Composite decking boards are very low maintenance and only require a quick cleaning and scrubbing on a regular basis.
Unlike wood, composite decking does not require sanding, polishing, staining, or oiling.
No splinters to deal with
Splinters and cuts from uneven, unstable, or weathered surfaces are another unintended poolside hazard.
In contrast to traditional wood decking, composite decking around the pool provides a smooth, clean surface that requires little to no maintenance for many years.
Composite decking cons
The only disadvantage of composite decking is that it is less stable than timber. However, this is easily compensated for by providing better support for the deck and placing the joists closer together during construction.
Multiple materials
It's not everything or nothing when it comes to pool deck materials. You can opt for a mix of materials to suit your needs and desired aesthetic. For example, many people install brick or pavers right around the pool because they are not as slippery when you get out. Right next to it, you can lay a wooden deck. This way, the wood won't get as wet, so it won't expand or become too slippery from the water.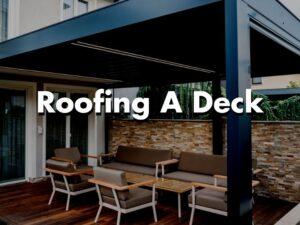 The five best tips if you want to build a timber deck
Want to build a wooden/timber deck around your pool? Here are useful top five tips for creating a pool deck:
1. Choose the timber for your deck carefully
Pool decks are regularly splashed with chemical-laden water and are often exposed to the blazing summer sun and harsh winter weather. Therefore, it is crucial to choose a wood that can withstand these extreme conditions. So explore what is the best wood for a pool deck in Brisbane? 
2. Choose fasteners that will stand the test of time
Choose high-quality screws and fasteners that are corrosion-free, rust-proof, and can withstand the harsh conditions in your pool area. There is a wide range of stainless steel and galvanized steel fasteners that are ideal for pool decks.
3. Think drainage and ventilation
Make sure water can quickly drain away from the pool area to keep your deck looking finest. Try to create a gentle slope away from the edge of the pool, make sure your deck is adequately ventilated (we recommend at least 300mm of ground clearance) and install your decking boards with 5mm of space between them to encourage air circulation.
4. How will you meet the fencing requirements?
It's important to think about how you're going to comply with your pool fencing regulations. Will the fencing need to be attached to the deck in any way? Consider whether you need to reinforce the deck to support the weight of the fencing or if you need to arrange the boards so that the fencing can be attached. A little planning now can save a lot of time later.
5. Apply a high-quality sealer
After your deck is finished, apply a high-quality sealer or oil to protect your deck from the damaging effects of salt or chlorinated water and to keep it safe from the hot summer sun. 
Do I need a building permit for a pool deck in Brisbane?
A building permit is usually required to build a deck. If you are having a pool built at the same time, you will need to apply for a permit anyway, but it is worth considering if you are adding a deck to an existing pool. This can delay the process of building by up to 4 weeks while you wait for the permit.
Factors such as distance from neighbouring property, trees, and other buildings can affect the time to get a building permit.
Professional Local Deck Builders Brisbane
If you want help choosing the most appropriate decking material for your outdoor space or other landscaping projects, contact Local Deck Builders. 
At Local Deck Builders, we can provide you with the right pool deck idea that will be the envy of your entire neighbourhood!
We are glad to go above and beyond to help customers get the outdoor space of their dreams.
This article first appeared on the Local Deck Builders website