Tips for selecting the best deck furniture for your outdoor area 
Good deck furniture will bring comfort and functionality to your outdoor space.
Outfit a deck with a wicker sofa and a classic rocking chair, both with soft cushions, and it will quickly become another family room during the warmer months.
When complemented with the right deck furniture, even small spaces, such as balconies and cramped gardens, will be drawn outdoors.
Consider the following suggestions to help you select the best furniture for your outdoor space.
Careful planning will help you turn your patio or new deck into your new favourite place for lounging, dining and entertaining.
1. Make a list of your deck furniture requirements
Start by thinking about how you want to use your outdoor space. Do you want to use it as a dining area during the summer? Do you have any plans to hold a dinner or a children's birthday celebration in your backyard? Or do you envision a quiet reading nook tucked away in your outdoor space?
If the primary function of your deck is to host casual evening cocktail parties, for example, you don't need a dining table. Instead, opt for plenty of comfortable seating, several side tables and a fire pit.
2. Test outdoor seating before you buy
When shopping for loungers and sofas, be sure to test the seating before you buy. Deck furniture is likely to be used regularly, especially in the warmer months, so it's important that the seating is comfortable.
For the most comfort, look for pieces with plush cushions on the seats and backs, or get comfortable on metal and wood furniture with fluffy pillows. Also, make sure all fabrics are weather-resistant to prevent colours from fading.
3. Choose garden furniture that is easy to maintain
Reserve most of your outdoor time for enjoying your living space, not maintaining the furniture. Look for low-maintenance deck furniture to minimize the need for maintenance. Most metal, teak, cedar and all-weather wicker furniture is undeterred by anything nature throws at it.
With a bit of cleaning regularly, furniture made from these materials will look fabulous for years to come. Outdoor cushions and pillows with removable coverings that you can toss in the washing machine can also add to your patio or deck furniture.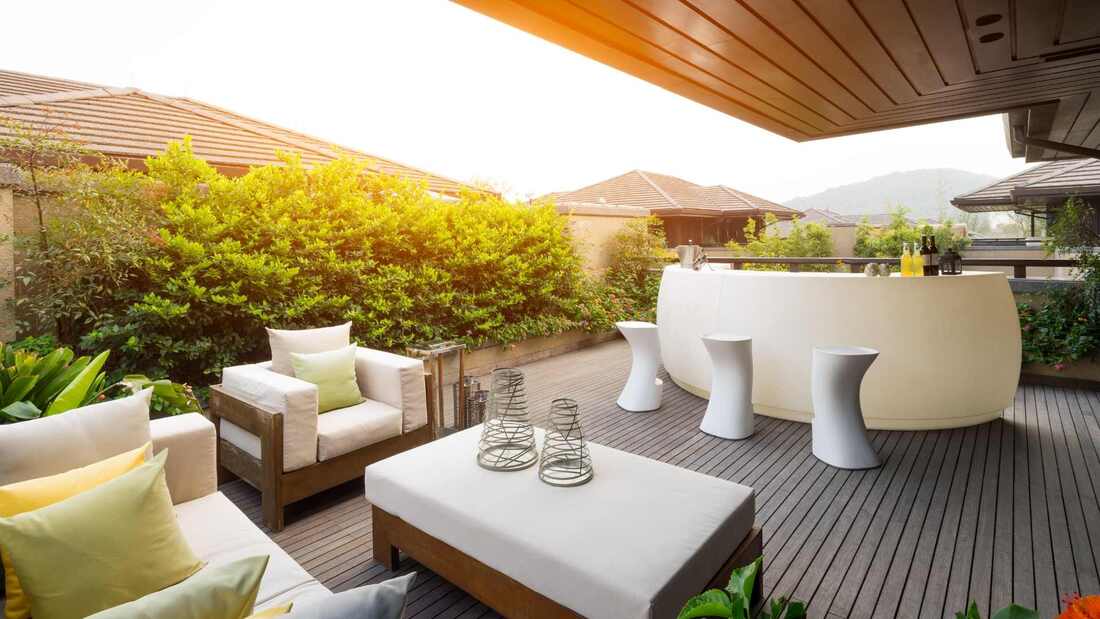 4. Consider storage for your deck furniture
Extend the life of your deck furniture by storing it in a protected location during the off-season. A garage, basement or shed will safeguard furniture from the elements and prevent further damage or wear and tear.
Even the most durable deck furniture, such as teak chairs or a wrought iron sofa, will last longer if stored when you aren't using it. If your storage space is limited, try deck furniture easily folded or disassembled for compact storage.
Stackable chairs can also help maximize storage space when the deck season ends.
5. Match the colours to your backyard décor
When shopping for deck furniture, you're not limited to neutral colours or natural wood tones. Wicker, wood and metal furniture is available today in a wide variety of colours.
Look for furniture that matches the colours of your yard, your home's exterior or the rest of your outdoor décor.
Choose vivid colours for cushions and accent pieces to help it last as long as possible. These pieces are likely to be used less frequently, resulting in minimal wear and tear, and are less expensive to replace.
6. Invest in quality deck furniture
Plastic chairs or side tables may look great on the shelf and keep their good looks for a year or two in the sun, but they become brittle and lose their vibrant colour over time.
The same is true of some wood and wicker products. Shop carefully and check consumer reports and reviews before making a big purchase. If you're on a budget, spend a little more on items you'll use most often, such as a comfortable recliner or sturdy dining table. In addition, you can save on smaller accessories like cushions and side tables.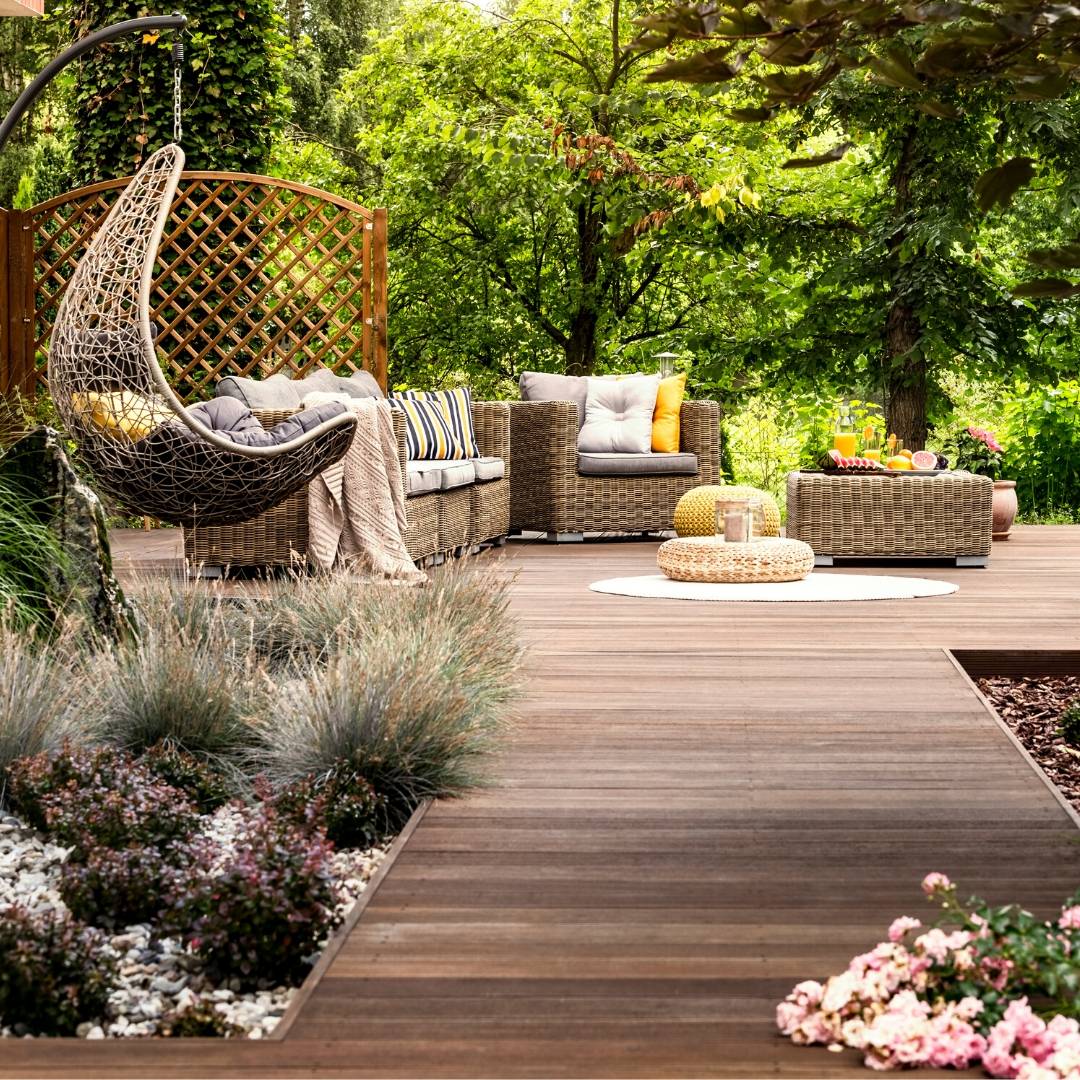 7. Bring colour and freshness to your deck
– Outdoor rugs
Bury deck furniture by placing it on an all-weather rug. Soft underfoot and richly textured, an outdoor rug will bring comfort to your patio or deck.
Choose a colour and pattern that coordinates with the rest of the furniture and decor to bring unity to your outdoor space. Before you purchase it, make sure that the rug is suitable for outdoor use.
– Planters
Planters are a simple way to beautify the deck, add a splash of colour to shady areas, or solve poor garden soil.
Make sure there is a hole in the bottom of the planter so plants won't choke, and read the label or talk to the nursery to find out which plants will do well in particular conditions, such as full sun or shade. Have you read our article on best climbing plants for a pergola?
If you want to beautify your backyard, Pergolas Brisbane may have the solution to your problem. We also work with The Local Deck Builders team
Pergolas Brisbane
19 Pleasant crt
Cleveland QLD 4163
07 3064 0661
-27.515214341430752, 153.26482754542508
The post New Deck Furniture appeared first on Pergolas Brisbane.